Senior Living in New Orleans
Quality care and premier senior living accommodations
Be cautious! The U.S. Department of Health and Human Services Office of Inspector General issued an alert about COVID-19 related fraud schemes. Scammers are targeting Medicare beneficiaries and are offering fake, unauthorized COVID-19 test kits. Visit the HHS Office of Inspector General's COVID-19 Fraud Alert website for more information on these scams and ways to protect yourself and your loved ones.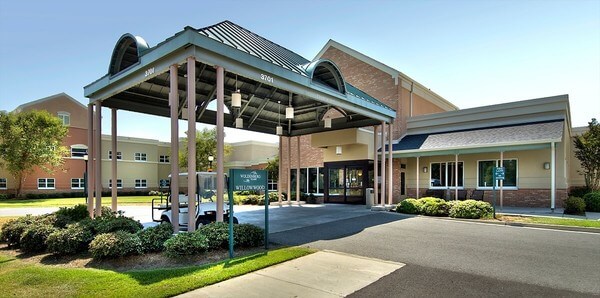 Touro's Woldenberg Village is a not-for-profit, multi-service residential retirement community covering 17 acres on the West Bank of New Orleans. Woldenberg Village draws an ethnically, racially, and religiously diverse group of residents from the entire metropolitan area and beyond, offering seniors spacious and comfortable living accommodations on beautifully landscaped grounds. Our caring staff and residents create a warm, welcoming, and intimate setting. Woldenberg Village is retirement living at its best.
Whether you are able to live independently, need some additional support, or are in need of skilled nursing care, Woldenberg Village offers quality care and an engaging lifestyle for its residents. Residents benefit from an environment of exceptional services and amenities that promotes active lifestyles and personal freedom.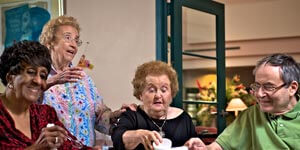 Features of Woldenberg Village include:
24-hour emergency response system
Smoke alarms and sprinklers in all apartments
Scheduled group transportation for activities, errands, and doctors' appointments
Weekly housekeeping and laundry service
Elegant private dining room for small gatherings
Beauty salon/barber shop
Special programs and activities designed for the active senior
Stimulating outings to the symphony, restaurants, museums, and city-wide events
With all the amenities you need for ultimate comfort and assistance, Woldenberg Village meets your unique needs at every stage of life.
Activities at Woldenberg
Activities and social events fill the calendar at Woldenberg Village. The choice is yours—something fun is always happening and there are plenty of opportunities for new adventures with friends and neighbors.
Woldenberg Village has developed programs in a variety of areas to engage and build on each resident's abilities, strengths, and interests. Daily routine supports individual choices and a varied activity schedule.
Residents also enjoy meaningful recreation in both small and large group settings as well as individual activity, including:
Health and fitness programs
Entertainment
Spiritual guidance (visits from religious leaders from various denominations)
Community trips
Leisure activities (playing cards, attending or hosting social functions, gardening, reading in the library)
Religious services
Woldenberg Village serves people of all faiths and recognizes the diversity of religious affiliations among our residents. In order to serve religious and spiritual needs, we provide a number of religious services.
Religious services offered throughout the week at Woldenberg Village are:
Shabbat services every Saturday and observance of Jewish holidays
Various weekly services and observance of Christian holidays
Protestant services on-site and various prayer group meetings
A weekly Catholic mass and Rosary
Alzheimer's care
Woldenberg Village is proud to offer two housing options for seniors diagnosed with Alzheimer's. Our assisted living facility – the Evergreens – and our skilled nursing accommodations – the Renaissance – provide the unique care that you or your loved one requires. No matter the condition or the stage of Alzheimer's, rest assured that Woldenberg Village can accommodate every patient and give them the support they need.
Floor plans
The Villas are Independent Living homes. They are available as a two- or one-bedroom residence.
The Azaleas are Assisted Living apartments. They are available as a studio or one-bedroom unit.
Willowwood are Skilled Nursing units. They are available as a private- or semi-private room.
Make the move
Woldenberg Village will help you make the move to the retirement lifestyle you want or need. Everyone has unique circumstances that help determine how they can best fund senior living for themselves or their loved ones. Unlike many other senior living communities, Woldenberg Village does not require an expensive buy-in or purchase. Residents simply pay on a monthly basis for living accommodations and amenities utilized.
Woldenberg Village accepts Medicare, Medicaid and private pay for the skilled nursing facility. Assisted living and Independent living are private pay only.
Click the links below to download the following helpful documents:
Lease rates are as follows:
Move-in specials: The $2,000 community fee is waived for both The Villas Independent Living and The Azaleas Assisted Living.