Woldenberg Village
Where the Living is Easy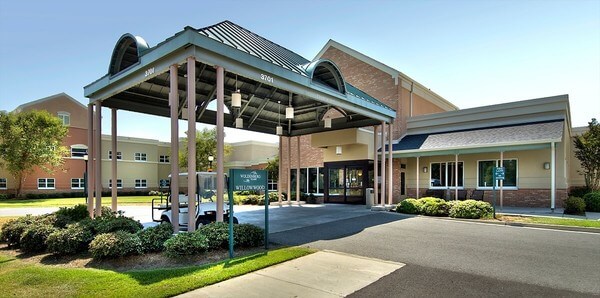 Senior Living @ Woldenberg Village in New Orleans
As the experts in aging,Touro is proud to offer senior living at its best at Woldenberg Village. It isn't just about taking care of you when you're sick, it's about helping you live a healthy, productive, and purpose-filled life. It's about maximizing the positives. Touro has cared for generations of New Orleanians, and that's a legacy we don't take lightly.
Woldenberg Village, a not-for-profit, multi-service residential retirement community in New Orleans, is a diverse community with people from all backgrounds and walks of life. Located on 17-acres of beautifully landscaped grounds, Woldenberg Village provides continuity as seniors maneuver through life's phases while ensuring an engaging and nurturing living experience. Safety, security, and a sense of well-being are top priorities. Together, caring staff and residents create a warm, welcoming, and intimate setting.
Depending on your preferences, as well as physical and emotional needs, a variety of accommodations allow for seamless transition from independent living to assisted living to skilled and memory care for seniors, if the need arises. Residents benefit from an environment of exceptional services and amenities that promotes an active, comfortable lifestyle and personal freedom.
Senior Living Accommodations & Options
The Villas - Independent Senior Living
Independent Living with One/Two Bedroom Garden Homes
Independent Living floor plans
The Azaleas - Assisted Senior Living
Assisted Living with Studio/OneBedroom Apartments
Memory Care Assisted Living with Studio/One Bedroom Apartments
Respite Care with Studio/One Bedroom Apartments
Skilled Nursing Facility with Private/Semi-private Rooms
Memory Care Skilled Nursing Unit with Private/Semi-private Rooms
Services and Amenities for Active Seniors
Activities and social events fill the calendar at Woldenberg Village. Something fun and interesting is always happening. There are plenty of opportunities for new adventures with friends and neighbors. A variety of programs involve residents based on individual lifestyles, abilities, strengths, and interests. Each housing option at Woldenberg Village offers a different level of customization, accommodations, amenities, and activities. Here are some of the benefits available at Woldenberg Village depending on the level of accommodations you choose.
24-hour emergency response system
Gated community with camera security system
Smoke alarms and sprinklers in all homes and apartments
Group transportation for activities, errands, and doctors' appointments
Housekeeping and laundry services
Meal service and community dining areas
Chapel and devotional services
Special programs, social outings, and leisure activities
Exercise room and personal grooming services
Music and entertainment programs
Medication monitoring and care assistance available
Religious and Devotional Services
Woldenberg Village serves people of all faiths and recognizes the diversity of religious affiliations among our residents. Religious services offered throughout the week include, but are not limited to:
Shabbat services every Saturday and observance of Jewish holidays
Various weekly services and observance of Christian holidays
Protestant services on-site and various prayer group meetings
A weekly Catholic mass and rosary
Outpatient Rehabilitation Therapy
One of Woldenberg Village's unique offerings is Touro's outpatient occupational, physical, and speech therapists located on our retirement campus. Following a return from the hospital, if our residents need rehabilitation services, the outpatient rehabilitation center can evaluate functional abilities and assist with rehabilitation needs such as mobility, daily tasks, communication skills, and swallowing function. Activities directed by our therapists will assist in maximizing independence as much as possible, with the ultimate goal of returning the individual to their previous level of function.
Make the Move to Woldenberg Village
Woldenberg Village is ready to help you make the move. Everyone has unique circumstances and financial situations. Unlike many other senior living communities, Woldenberg Village does not require an expensive buy-in or purchase. Contact us to discuss your needs, lifestyle options, or to schedule a tour. Woldenberg Village accepts Medicare, Medicaid and private pay for the skilled nursing facility. Assisted living and Independent living are private pay only and not covered by insurance.
Download these helpful documents:
Woldenberg Village
3701 Behrman Place
New Orleans, LA 70114
Experience Woldenberg Village by taking a personal tour. Call 504.576.1514 or email woldenbergvillageinfo@LCMChealth.org