Home Health at Touro
Home Health provides intermittent care to patients in their homes under the direction of the patient's physician. Hospital case managers can assist patients with the referral once their physician orders home health.
Available Services: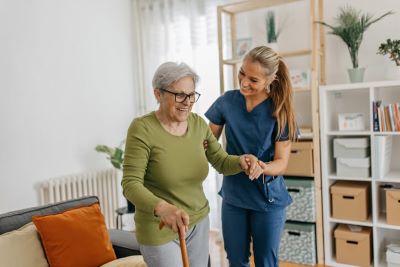 Skilled Nursing
Home Care Aide
Physical Therapy
Occupational Therapy
Speech/Language Pathology
Medical Social Services
Services are provided by a multi-disciplinary team of healthcare professionals under the direction of the patient's personal physician.
Specialized programs:
Infusion therapy
Wound care
Congestive heart failure treatment
Orthopedic recovery
Disease management education
Fall prevention
Diabetes management
Referral information
There are eligibility requirements to qualify for home healthcare. Patients requiring home health services should discuss the potential need for home health care with their physicians. Often the hospital social workers or nurses can initiate the referral process. We can assist patients in determining insurance coverage
Physician referral form (download, complete and return to us via fax)
Please fax to 504.897.8640 or scan and email to homecare@touro.com
Licensure
Home Health is licensed by the State of Louisiana, is a Medicare-Certified Agency and meets the Home Care Standards of the Joint Commission.
Contact:
Phone: 504.897.8576
Fax: 504.897.8640
Email: homecare@touro.com
Hours: 8am–4:30 pm, Monday - Friday