Memory Care Senior Living
Memory Care Living @ Woldenberg Village
Seniors living with memory impairment, Alzheimer's or dementia may need specialized care that is not always incorporated in an assisted living facility. At Woldenberg Village in New Orleans, we understand the care requirements and have developed living arrangements tailored to the unique needs of senior residents with Alzheimer's and dementia.
Memory Care Living Options
Assisted Living Memory Care @ The Evergreens
The Evergreens at The Azaleas is part of the assisted living community. For seniors diagnosed with memory concerns, dementia and Alzheimer's, The Evergreens provide care with a keen understanding of the multi-faceted challenges of memory care. Loss of memory is difficult enough. Loss of independence can be just at disheartening. Choosing the right housing and memory care can be crucial ingredients for peace of mind when it comes to dealing with dementia or Alzheimer's.
Residents of The Evergreens have a comfortable, home-like apartment with round-the-clock support and the same services available as assisted living. Despite memory impairment, the daily calendar is filled with productive activities. A secured area, The Evergreens offer a soothing, monitored environment with safety, physical and psychological needs of primary importance. Specially trained staff are committed to raising the standards of excellence for those with Alzheimer's and other dementia-related illnesses.
When a person has memory loss, their life is made up of moments. At The Evergreens, it is our goal to create moments of joy by building a bridge from the past to the present. Our program is designed around the philosophy of reminiscence and recalling past experiences that brought joy to one's life.
The Evergreens Memory Care Pricing
Studio Apartment $4,450 per month
One Bedroom Apartment $4,850 per month
The Evergreens accepts private pay residents. Medicare, Medicaid, and private health insurance does not cover assisted living memory care. Prices are subject to change at the beginning of every year. Rent includes: water, electricity, one cable box, wifi, and pest control. Security deposit: A one-month security deposit and an executed lease is required prior to move-in.
As an additional service, Respite Care is offered to families as an opportunity to take time off from the demands of caring for their loved ones with Altzheimer's or dementia. Contact us for more information on respite memory care services and pricing.
Skilled Nursing Memory Care @ Willow Wood
Memory Care at Willow Wood skilled nursing facility, is an advanced dementia and Alzheimer's unit for long-term care. When memory issues deteriorate to a point where you or a family member can no longer live alone and need a higher level of medical care as well, the Memory Care Unit at Willow Wood is an option.
In addition to all the skilled nursing services offered, the Memory Care Unit provides medical care specially designed for residents with memory-impairing illnesses as well. Our focus for residents is providing quality of life that celebrates their capabilities and uniqueness, while ensuring security and peace of mind to their family. A full calendar of stimulating activities happens daily in our beautiful dayroom or outdoors in the enclosed gardens.
Woldenberg Village also offers a Snoezelen® multi-sensory space designed to provide auditory and visual stimulation for persons with dementia. The innovative environment helps prevent residents from feeling isolated, bored, or frustrated by engaging them with a wide range of sounds.
Snoezelen® features include:
A sensory magic projection area
A mirror ball
'Bamboo' fiber optics
Virbomusic recliner
Vibroacoustic exercise chair
Spotlights
A stereo
Passive and interactive color match wall panels
A ceiling star projector
Bubble tubing
The Snoezelen® room at Woldenberg Village was made possible by the generous support of Albert & Rea Hendler.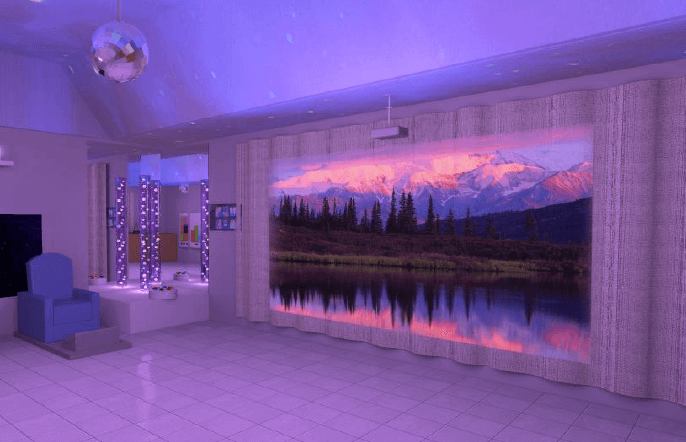 Willow Wood Memory Care Unit Pricing
Semi-private room $7,440 per month
Private room $8,060* per month
Private rooms are available for private pay and are not covered by insurance. Semi-private rooms are also available with Medicare, Medicaid, and private insurances accepted. Willow Wood is licensed by Medicare and Medicaid and meets all federal and state criteria for skilled nursing facilities. Room rates do not cover prescriptions, prosthetic appliances and walkers, beauty shop charges, incontinent garments, outside transportation services or therapy services. In addition, insurance does not cover co-insurance deductibles and ancillary charges.
Experience Willow Wood by taking a personal tour. Call 504.576.1514 or email woldenbergvillageinfo@LCMChealth.org to schedule a visit.