Joint Commission Certified Primary Stroke Center at Touro
Emergency care for patients who experience stroke
The Stroke Program at Touro Infirmary provides 24-hour emergency care for acute stroke diagnoses and consultative care and treatment for patients at high risk for stroke and those with underlying vascular pathologies. It is our mission to provide the best possible chance of survival and reduction of disability after acute stroke.
As a Certified Primary Stroke Center, we aim to provide a high standard of care for our patients. Our team provides coordinated care from the EMS providers throughout the hospital stay to discharge planning.
At the first sign of a stroke, call 911 and choose Touro as your destination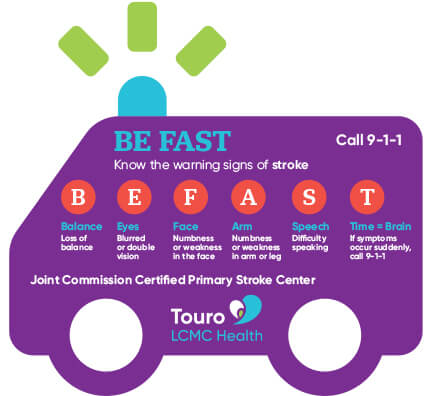 Use the BE FAST acronym to familiarize yourself with the symptoms of a stroke:
B - Balance: Loss of balance
E - Eyes: Blurred or double vision
F - Face: Numbness or weakness in the face
S - Speech: Difficulty speaking
A - Arm: Numbness or weakness in arm or leg
T - Time = Brain: If symptoms occur suddenly, act FAST and call 9-1-1 immediately.
Get familiar with the different types of stroke
Although we tend to think of stroke as one condition, there are three primary types of strokes:
Ischemic Strokes are the most common, occurring when blood flow to the brain is blocked, often due to a blood clot.
Hemorrhagic strokes involve an artery leaking in the brain; these are often caused by high blood pressure or aneurysms.
Transient Ischemic Attack (TIA) is sometimes called a "ministroke"—it occurs when blood flow to the brain is blocked for five minutes or less. Although it's less severe, it's still a medical emergency and may even be a precursor of a more serious stroke to come.
Recognizing stroke symptoms
Education is the most important tool in minimizing the effects of a stroke. The more quickly you respond to it, the better the outcome of your senior—or anyone—who's having a stroke. Remember the acronym BE FAST, and take action immediately if you notice any of the signs in a loved one.
Learn more about risk factors.
Learn more about adapting a healthy lifestyle.

A nationally recognized program
In July 2023, Touro's Stroke Program received the American Heart Association/American Stroke Association's Get With The Guidelines® Target: Stroke Honor Roll Elite Plus Gold Plus Quality Achievement Award. The award recognizes the hospital's commitment to ensuring stroke patients receive the most appropriate treatment according to nationally recognized, research-based guidelines based on the latest scientific evidence.