Know the warning signs of heart problems
At Touro Heart Care, we provide our city and the surrounding area with a world-class heart team, delivering personalized care to our patients experiencing heart conditions. And we know that recognizing the signs and symptoms of heart trouble is one of the best ways to prevent death or a severe heart attack. So we not only treat our heart patients but encourage them to learn the signs of heart attack—and stroke too, since vascular ailments can cause strokes. Acting quickly can mean the difference between life and death.
What is high blood pressure?
High blood pressure (hypertension) is known as the "silent killer." This is because most of the time, it doesn't cause symptoms. In fact, many people don't know they have it until other problems develop. In most cases, high blood pressure often requires lifelong treatment. More than half of Americans have high blood pressure, and the risk factors include diabetes, gout, and kidney disease. Middle-aged patients are also more at risk. The causes of high blood pressure include being overweight, not getting enough exercise, and more.
You can reduce your blood pressure by:
Eating foods low in salt, calories, and fat
Eating high-fiber nourishment
Losing weight or staying at a healthy weight
Limiting serving sizes
Exercising more
Reducing stress
Drinking less alcohol
Sleeping enough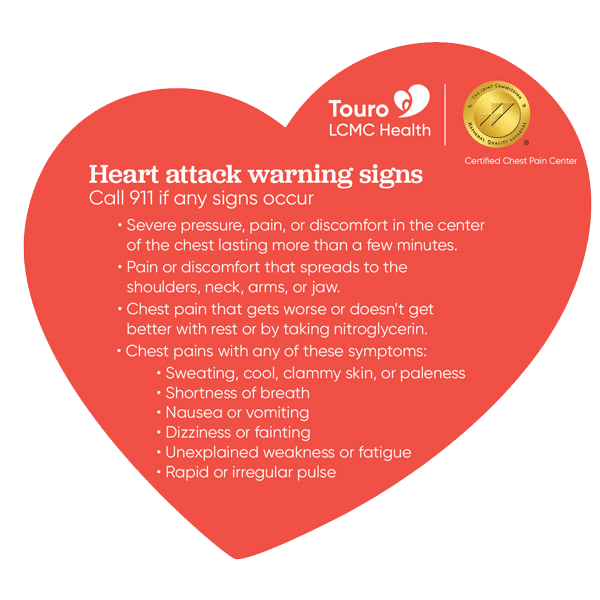 We offer customized treatment plans to our patients
Heart attacks and strokes are not necessarily conditions in and of themselves, but the result of heart disease. At Touro Heart Care, we can help our patients recover from traumatic health conditions—we diagnose the cause of your heart attack or stroke, take into consideration all we've learned about you, and suggest surgical or non-surgical treatment to get you on the road to better health.