Neonatal Intensive Care Unit
Special delivery: NICU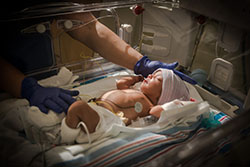 Touro's Level III NICU is 11,000 square feet of space for our tiniest and most fragile babies and their parents.
The NICU provides infants with specialized nursing care, advanced respiratory support, and dedicated lactation services. Separate medication and feeding prep areas with Medela breast milk warmers allow for consistent and safe breast milk storage and use. The NICU is located in the Family Birthing Center in close proximity to our Labor and Delivery suites, as well as the operating rooms.
The NICU is equipped with five open bay rooms, and 21 private and semi-private rooms to allow for care of 24 babies. It also has six Giraffe Omni beds which are convertible as a radiant heat warmer and an isolette. Parents are able to keep a close eye on their tiny bundle of joy with our NICU video monitoring system.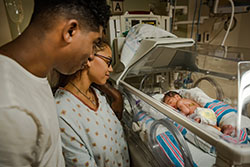 The private rooms aid in the progress of babies' health and eliminate stimulation from noise. The private rooms are also designed with mom and dad in mind, equipped with a family area so parents can always be by their baby's side. Each room also has a specialty recliner for comfort and kangaroo care. There are also two transition to discharge rooms used for the parents on the baby's last day in the hospital. The rooms ensure that parents are well-equipped to care for their new special bundle of joy.
For resources and more information about caring for your baby that may have come a little too soon, visit our partners at the March of Dimes.
Our providers
Our services are provided by the LSU Health New Orleans neonatal physicians.
Brian M. Barkemeyer, MD | Neonatology
Julie B. Gallois, MD | Neonatology
Raegan W. Gupta, MD | Neonatology
Michelle C. Knecht, MD | Neonatology
Christy G. Mumphrey, MD | Neonatology
Staci M. Olister, MD | Neonatology
Jessica L. Patrick-Esteve, MD | Neonatology
Dana L. Rivera, MD | Neonatology
Jeffrey W. Surcouf, MD | Neonatology