Four tips to prevent shoulder pain
Category: News
Posted On:
Written By:

Lance S. Estrada, MD
Whether you're painting a room, practicing your softball pitch, or hoisting something onto a high shelf, your shoulders are put in a lot of work. Each shoulder is made of multiple joints, muscles, and tendons that allow for a wide range of motion. But when there's a problem, it can cause considerable pain.
Here's how to give pain the cold shoulder.
1. Sit straight and tall. Slumping down or hunching over in your chair can contribute to shoulder pain. Become more aware of your seated posture throughout the day. Avoid rounding your shoulders or jutting your head forward.
2. Improve your flexibility. Stretching helps keep your shoulders and shoulder blades moving properly. Here's one stretch to try:
Stand with your shoulders relaxed.
Gently pull your right arm across your chest as far as you can, guiding your upper arm with your left hand. Hold for 30 seconds. You should feel a stretch at the back of your shoulder. But you shouldn't feel pain; if you do, that's a sign to stop.
Do the same stretch on the other side.
Repeat three more times on each side.
3. Pump up your strength. Experts recommend doing muscle-strengthening exercises that work all the major muscle groups at least twice a week. Be sure to include exercises for your shoulders, upper arms, chest, and upper back. You can work these muscles using elastic bands, hand weights, weight machines, or the weight of your own body (for example, push-ups).
4. Don't shrug off pain. If you develop new pain, stiffness, or weakness in your shoulder, contact your provider. Getting proper care can help relieve pain, restore normal function, and often prevent further damage.
Care from experienced professionals
The Touro Orthopedic and Spine Center is a dedicated hospital unit specially designed to return you to an active lifestyle as quickly as possible, with staff and physicians devoted specifically to orthopedic and spine patients. Learn more at touro.com/orthopedic.
About Dr. Estrada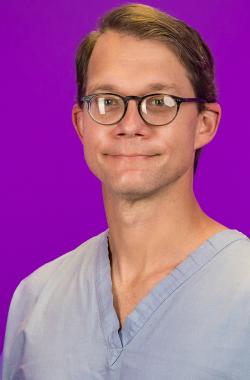 Dr. Lance S Estrada is double board-certified in both Sports Medicine and Orthopedic Surgery. Dr Estrada received his medical degree with highest honors from Tulane University School of Medicine and then completed his surgical training in Orthopedic Surgery at the University of Alabama at Birmingham (UAB) where he was elected Chief Resident in his final year and presented with the Leonard Marmor award for outstanding performance.
Following the completion of his surgical training, Dr. Estrada moved back to New Orleans and joined the private practice of Orthopedic Associates of New Orleans (OANO) in 2004. He has been the team physician to the UNO