Expert, high-tech knee replacement brings long awaited pain relief
At the age of 77, Michael considered himself in reasonably good shape. He's been active all his life and was a runner for a long time. That's why he knew something was wrong when he started having problems with his right knee in 2019.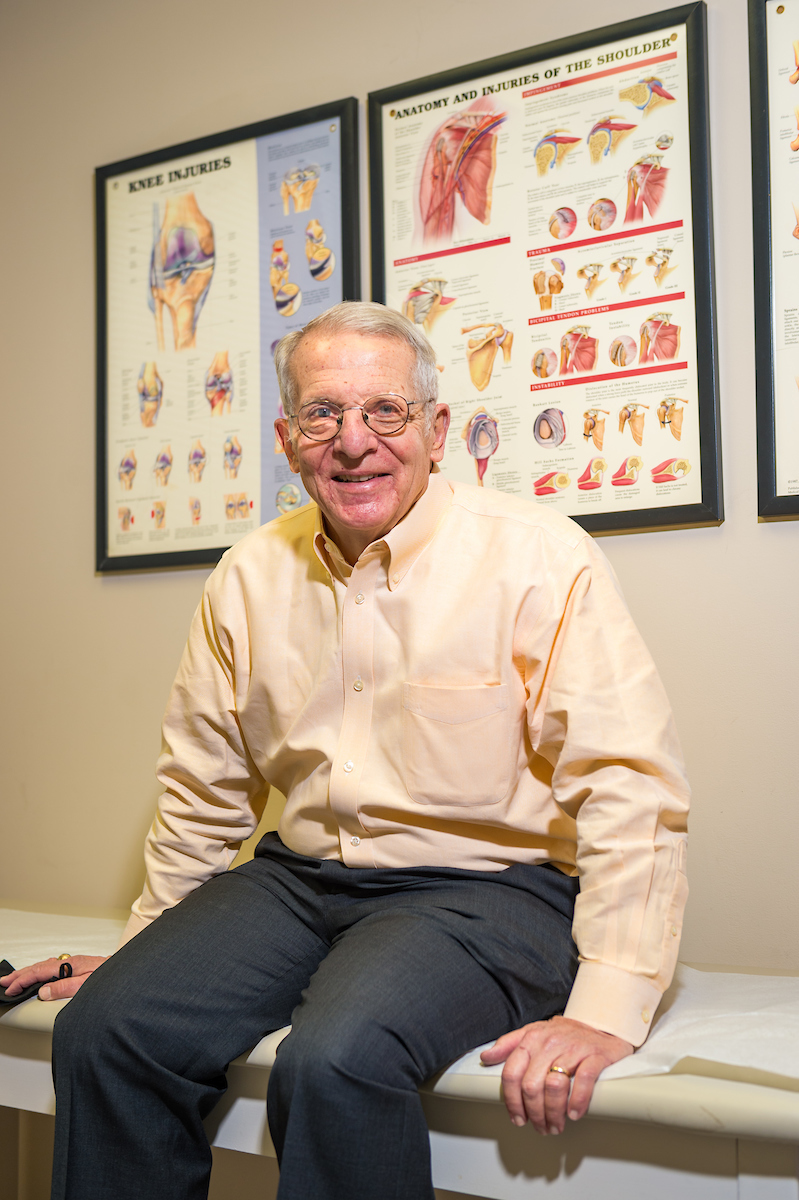 "I had it X-rayed, and it didn't seem to indicate that I was a candidate for a knee replacement yet," Michael recalls. His physicians at the time recommended that he begin physical therapy to help with the discomfort. Michael completed about six sessions of therapy, but he felt like it didn't help at all.
His physicians then requested that he have an MRI done on his right knee to evaluate the progress since beginning physical therapy. The MRI showed that his knee had actually deteriorated a little since his original X-ray. Before deciding to move forward with surgery, his physicians suggested that he try other options first. Michael received a steroid shot in the knee that relieved the pain for a short amount of time but didn't last. He then went through a couple of series of gel injections into his knee. Still, he didn't experience much pain relief.
"I guess I just sort of lost some confidence there," he remembers.
Second opinion brings first hope
After a year of trying other pain-relieving options, Michael decided to make an appointment with Touro Orthopedic Surgeon Lance Estrada for a second opinion. Dr. Estrada confirmed that his knee had deteriorated to the point where the joint was bone on bone. He scheduled Michael for a Mako Robotic-Arm Assisted total knee replacement surgery in September 2020.
The Mako Total Knee application is a knee replacement treatment option designed to relieve the pain caused by joint degeneration due to osteoarthritis. Through CT-based 3D modeling of bone anatomy, Touro's orthopedic surgeons use the Mako system to create a personalized surgical plan based on a patient's unique anatomy, and they're able to virtually modify the surgical plan intraoperatively as needed. "In my experience, the use of the Mako robotic-assisted knee replacement at Touro helps to dramatically speed up patients' recovery," says Dr. Estrada. Michael (left) chats with Dr. Lance Estrada.
Michael was walking unassisted four days after surgery.
Experienced care and comfort
Michael arrived at Touro's Orthopedic and Spine Center, a dedicated hospital unit with staff and physicians specifically devoted to orthopedic and spine patients, the night before his surgery for his "comfort night." The "comfort night" at Touro allows orthopedic patients to avoid any unnecessary stress that can occur the morning of surgery and allows them to get acquainted with their hospital room prior to surgery.
The next morning Michael was wheeled into the surgery room, and his knee replacement was complete in less than an hour. "I didn't experience a lot of discomfort as a result of the surgery," he recalls.
Healing together
Michael remained in the Orthopedic and Spine unit for a couple days following his surgery to recover and begin therapy. "It's a good unit because there's nothing but people who have had a knee, hip, or shoulder surgery," he says.
Touro's Orthopedic and Spine Center has dedicated surgery days for orthopedic patients. This allows the group of orthopedic patients to support and encourage each other as they each go through recovery and physical therapy together. With the combination of support from the Orthopedic and Spine Center professionals and the medically advanced Mako robot, Michael was walking unassisted four days after surgery.
The week following his surgery Michael began several weeks of outpatient physical therapy to enhance his recovery. Michael was dedicated to the program, and knew that he had to put in the work in order to get the best outcome from his surgery. "I really crushed physical therapy and had so much range of motion in my knee that I was able to bend to almost 125 degrees," he says.
A team effort
Michael is now finished with physical therapy and is feeling better than ever. He credits Dr. Estrada, Touro's Orthopedic and Spine Center the Mako robot and physical therapy for his quick and painless total knee replacement and recovery. Michael says that when it's time to replace his other knee, "I'm going to Touro!"
Dedicated unit offers comprehensive care
The first of its kind in the region, Touro's Orthopedic and Spine Center offers the most recent arthroscopic, minimally invasive surgical procedures designed to relieve pain, improve function, and return you to an active lifestyle as quickly as possible.
Learn more at touro.com/orthopedic.