Education & Exercise to Help you Recover
Pulmonary rehabilitation programs are designed to help people who have pulmonary disease reach and maintain their highest level of health through a guided regimen of exercise and positive lifestyle change.
Touro's Pulmonary Rehabilitation program consists of two outpatient phases of rehabilitation: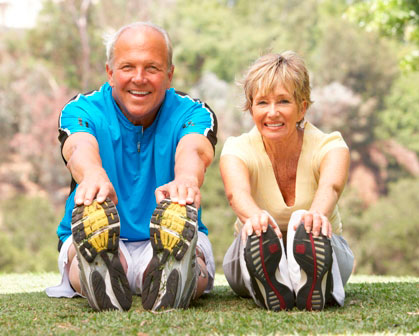 Phase II pulmonary rehab consists of 12 weeks of exercise and education supervised by a registered respiratory therapist and an exercise specialist. During Phase II, the therapist interviews patients and an individualized exercise and education program is planned. Patients are asked to attend exercise sessions three times a week. Heart rhythms are monitored during the exercise sessions, as are blood pressure, oxygen saturations, and physical exertion. Learning sessions in exercise, nutrition, stress management, smoking cessation, weight control, and disease-specific behavior modifications are conducted by the health care team. Exercise sessions take place in the Fitness Center (A5) and are held on Mondays, Wednesdays and Fridays from 6:30 am - 3 pm.
Phase III pulmonary rehab is a maintenance program designed to assure continuation of proper nutrition, exercise, and lifestyle adjustment. Health education and a regular exercise regimen with blood pressure and oxygen saturation monitoring before and after exercises are continued during this phase.
Pulmonary rehabilitation is a great choice for a wide variety of patients as it offers several benefits that can improve not only your physical health but your overall well-being and quality of life.
The four principal benefits pulmonary patients receive include:
Information: Patients receive complete, accurate information about all aspects of pulmonary disease.
Confidence: Patients will feel self-confident knowing what they can or should not do in their daily living and with their exercise regime.
Optimal function: Patients will make faster progress toward their optimal level of lifestyle.
Prevention: Patients will make those necessary lifestyle adjustments to reduce the risk of future heart problems.
Am I a candidate for pulmonary rehab?
Persons who may benefit from pulmonary rehabilitation include those who have had or currently have COPD, asthma, emphysema, chronic bronchitis, lung transplant, cystic fibrosis with bronchiectasis and/or pulmonary hypertension.
Patients must have the recommendation of a physician in order to be accepted into the program. A complete pulmonary function study is required at the beginning of the program.
Will my insurance cover this program?
Phase II is generally covered by insurance companies. Phase III, the maintenance phase, is a reasonable cost program. A check of primary insurance will be made on all applicants prior to the beginning the program.
For more information about the Pulmonary Rehab Program at Touro Infirmary, call 504.897.7977.