COVID-19 antibody testing: fact vs fiction
We know keeping up with the latest Coronavirus information can be difficult, but we are here to help keep you informed by breaking down the information you need to know. Touro Chief Medical Officer Dr. Christopher J. Lege sat down with us set the record straight on what the test is, what the results mean, and how the test is used.
First off, what is an antibody?
Dr. Lege describes an antibody as a type of protein that our immune system makes during infection with either a virus or bacteria.
"When we make these antibodies during an infection, they can help clear our bodies of the infection and get us healthy again," explained Dr. Lege. "Some of these antibodies usually last for a long time after an infection is over, and can prevent someone from contracting the same infection a second time, or make the infection less severe. So antibodies can be important in different ways."
How is an antibody test done?
The test is done with a blood sample. The tip of your finger may be pricked with a small sharp device, or a needle may be used to draw blood from a vein in your arm or hand.
What does an antibody test look for?
The antibody test checks for two types of antibodies called IgM and IgG, that develop after a person is infected. IgM antibodies show up first and IgG antibodies can show up later. The IgG antibodies can last a lot longer than IgM. Even if the levels of IgG antibodies decrease over time, our immune systems can usually make them much faster and stronger the second time around if we are re-exposed to a virus or bacteria.
Your test results may show you have one or both of these types of antibodies in your blood, depending on when you take your test.
When is the best time to take an antibody test?
"It is probably most accurate 3-6 weeks after an infection when the levels of IgG antibodies are highest," suggested Dr. Lege.
Positive vs Negative antibody test results
A positive test result means the test may have found antibodies in your blood from a COVID-19 illness. Since some people never have symptoms during infection with COVID-19, you may test positive even if you didn't feel sick.
Does testing positive for the antibody test mean you will not contract COVID-19 again?
"A positive test only shows that you were exposed to COVID-19 and your immune system worked to fight it off," said Dr. Lege. "We don't really know what the risks of reinfection are at this point."
A negative test result means the test did not find these antibodies in your blood. This means you likely did not have a COVID-19 infection in the past or the antibodies may have disappeared quickly. Or it could mean you had or have an infection, and your body hasn't created antibodies yet. Either way, it is still important to keep following mask and social distancing guidelines to protect yourself and your loved ones.
How long does it take for results to come in? What should people do while they are waiting for their results to come in?
Antibody test results usually are available in 1-2 days.
"Since antibody tests aren't used alone to diagnose someone during an illness, there shouldn't be any reason to change a person's usual daily routine while they're waiting for these results," said Dr. Lege. "But if a person is acutely ill and both a viral test and an antibody test were done at the same time, you may need to wait for both results to determine what to do next."
How accurate are antibody tests?
The accuracy of the test varies. It depends on several factors. This type of test is new, and there are tests from many testing companies right now. Some tests are approved by the FDA, but many are not. Because of this, the proven accuracy of their results varies. Some tests seem to be more reliable than others. And, the amount of antibodies that people produce varies too, which also can affect the results.
Also, because it can take 1 to 3 weeks for antibodies to show up, the test results also depend on when you have the test. Having this test too soon after infection means it may not show COVID-19 antibodies. This is another reason why it is important to follow mask and social distancing guidelines.
Why should I take an antibody test?
"Most of the antibody tests are being done to try to determine how many people were infected with COVID-19 in a particular community or region, so we can understand how the virus is spreading. Some healthcare workers got the test done for this reason as well. But in general, most people don't need this test," explained Dr. Lege. "But if you wish to help other individuals who might be at greater risk of developing severe COVID-19 disease or who are at high risk for catching infections, you should be tested to see if you have these antibodies so you can donate plasma and save lives."
Can my antibodies really help someone who is currently suffering from COVID-19?
Severely ill patients with COVID-19 have been treated using COVID-19 antibodies. These treatments use recuperating plasma from patients who previously recovered from their infection because this plasma is rich in antibodies.
"It has helped some patients, but it is reserved for the most severely ill patients at this point," said Dr. Lege.
Also as we move forward during the pandemic, it will be important for as many recovered individuals as possible to consider regular plasma donation so that pharmaceutical companies can manufacture treatments to be used in patients with cancer, immunodeficiencies, and other disorders. The current supply of this treatment (called IVIG) doesn't protect these vulnerable patients, so plasma donations that contain COVID-19 antibodies are very important for the future.
What should I do if I become exposed to or am notified that I have been around someone who has tested positive for COVID-19?
"If you become exposed to the virus or are notified you've been in contact with someone who has had the virus, stay calm and call your primary care provider. Based on your symptoms, the provider will decide if you need to be brought into the office for a test or will send you to a testing facility. If you don't have symptoms, you should still quarantine for 14 days from exposure" said Dr. Lege.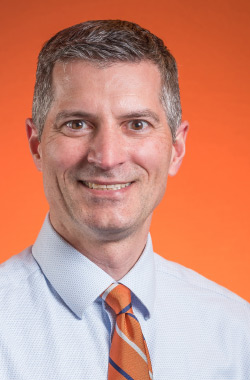 Dr. Christopher Lege, Chief Medical Officer at Touro and specializes in Internal Medicine. After earning his medical degree from Louisiana State University School of Medicine in New Orleans, he completed his residency at Tulane Medical Center. Dr. Lege values the physician/patient relationship because he enjoys educating patients to help keep them healthy and focusing his practice on preventative care.