Touro Infirmary Celebrates 165th Anniversary
Category: News
Posted On: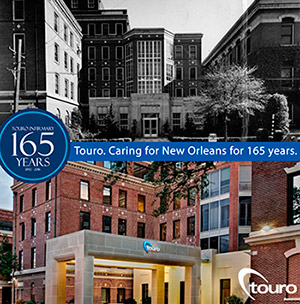 NEW ORLEANS – August 22, 2016 –Touro Infirmary celebrates its 165th anniversary of caring for New Orleans on Friday, August 26, 2016. This is an important milestone for Touro and a celebration of the organization's long history of caring for the New Orleans community. Since 1852 Touro has continued the mission of founder Judah Touro to provide compassionate healthcare of the highest quality to the people it serves.
Touro has been at the forefront of innovation for decades. In 1923, Touro was one of only fifteen hospitals in the country approved to use insulin to treat patients. In 1929, Touro was one of the first hospitals in the United States and the first in the city to have a physical therapy department, which paved the way for Touro's nationally recognized Rehabilitation Center.
In 1922, Touro Infirmary Maternity Service was established, and Touro became the place "where babies come from". Today, Touro is designated a Blue Distinction Center for Maternity Care by Blue Cross Blue Shield of Louisiana. The hospital delivers the second most babies in the state for any single hospital, with more than 3,500 New Orleans' babies born in 2015.
"Touro is a hospital with a rich history and an important legacy committed to serving New Orleans," says Susan Andrews, President and Chief Executive Office of Touro Infirmary. "Our patients and community can count on our ongoing commitment to their health and well-being for generations to come."
In its 165-year history, Touro has survived challenges such as the yellow fever epidemic, the Civil War, and two World Wars. In August 2005, Hurricane Katrina forced Touro to close its doors for the first time since the Civil War. Touro reopened its doors just 28 days later making us the first hospital to reopen after the storm. For four months, Touro was the only operating adult care hospital in Orleans Parish. Through times of challenge, Touro has remained resilient.
In 2009, Touro and Children's Hospital partnered to form LCMC Health, a non-profit, community-based system providing a complete continuum of care from birth to geriatrics. In the following years, LCMC Health has expanded to include University Medical Center, New Orleans East Hospital and West Jefferson Medical Center. Today, Touro joins its partner hospitals in dedication to the community through a focus on economic development, advanced research, teaching and clinical excellence initiatives.
Today, Touro is a leading healthcare provider for New Orleans, demonstrated by award-winning care and accolades, including Advance Certification for Primary Stroke Centers by the Joint Commission. Touro offers a full range of services including emergency services, preventive diagnostics, surgical care, women's services, cardiology, cancer treatment, rehabilitation, imaging, orthopaedics, stroke care and more.