Healthy Recipe for the New Year
Category: Living Well
Posted On:
Written By:

Monica Taylor, MS, RD, LDN
The New Year is a great opportunity to cleanse your palate of holiday indulgences and renew your commitment to healthy habits. Many of us choose to set a 'New Year's Resolution' and end up getting sidetracked or burnt out and not following through.
A tip to incorporate health and wellness into your new year is making half your meals out of a variety of fruits and vegetables. They add color, flavor, and texture plus vitamins, minerals, and fiber to your plate.
Superfood Crunch Salad with Homemade Balsamic Apple Vinaigrette
Yield
3-4 small bowls
Prep Time
30 Minutes
Cook time
0 Minutes
Ingredients:
For the dressing:
2 tablespoons extra virgin olive oil
1 tablespoon apple cider vinegar
1 tablespoon balsamic vinegar
1 teaspoon pure maple syrup, or to taste
1 teaspoon Dijon mustard
1 garlic clove, minced
1/4 teaspoon fine grain sea salt
Freshly ground black pepper, to taste
For the salad:
8-10 cups destemmed and shredded Lacinato (dino) kale (2 bunches)
1 pear, thinly sliced and chopped
1/2 cup pomegranate arils
1/4 cup pepita seeds
3-4 tbsp large flake coconut
1-2 tbsp hemp hearts (optional)
1-2 teaspoons black sesame seeds (optional)
Sprinkle of cinnamon
Directions:
In a medium bowl, whisk together the dressing ingredients. Adjust to taste if desired.
Remove all of the stems from the kale leaves and compost the stems (or if you are hard core you can save them for smoothies). Finely chop the kale leaves into tiny "shredded" pieces. The smaller the kale more tender the leaves will feel. Wash and spin dry. Place kale into a large salad bowl. You should have about 8-10 cups of kale for this salad.
Toss the kale in all of the dressing until everything is coated nicely. The kale will reduce in volume substantially.
Add the toppings (as much as you want – I recommend lots!), sprinkle with cinnamon, and serve immediately. Or let the dressing marinate the kale for a half hour or so. This salad is best served fresh, but it will keep chilled in the fridge for a day. if you don't think you will eat that quickly, I recommend making a half batch at a time or simply store the kale and dressing separately until ready to mix and consume.
Recipe from OhSheGlows.Com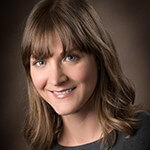 Monica Taylor, MS, RD, LDN is a Clinical Dietitian at Touro Infirmary. She received her Bachelor of Science in Dietetics from University of Louisiana at Lafayette. She also received her Masters of Science in Nutrition from Texas Woman's University. She has experience in medical nutrition therapy, clinical nutrition, nutrition education and nutritional counseling.