Tips to Avoid a Mardi Gras Concussion
Category: Living Well
Posted On:
Written By:

Matthew Bernard, M.D.
Carnival season is underway, which means king cakes, parades and parties galore. However, this season leads to something unexpected: injuries and emergency room visits. The common injury during carnival season is concussions, which can be a result of falling off a float or having a Zulu coconut thrown to your head. Although they range from mild to severe, they're all serious injuries that can harm the way the brain works.
How can you prevent a concussion?
Don't reach down to pick up beads, doubloons, etc. 
You are not paying attention to what is being thrown and an object can hit your head. When it's safe between floats, you can bend down to pick it up. Also, your fingers can easily be crunched by a parade-goer catching beads.
Do not overdrink
Alcohol affects the brain and central nervous system, which hinders your movement and balance. This can cause you to fall and possibly injure yourself. If you are drinking on the parade route, try alternating between an alcoholic beverage and water.
Pay attention to your surroundings
Be aware of any tripping hazards around you, such as a beads or trash. Also, try to stand away from the curb or end of the sidewalk to avoid falling.
Don't follow the float
You are more likely to only pay attention to the float and not watch where you are walking. You can trip over debris, such as an ice chest or another parade-goer.
Dress comfortably.
Try wearing flat, closed-toes shoes to avoid losing your balance and falling.
Practice Ladder Safety
If you have a Mardi Gras ladder, keep your younger children buckled in there as much as possible to avoid them from falling out. Kids love being able to see all the floats so you don't have to worry about them wandering off. When the child is buckled in the ladder, an adult must stand on the ladder to keep it from falling. Also, ladders must be at least six feet from the curb in case the ladder is knocked over unattended.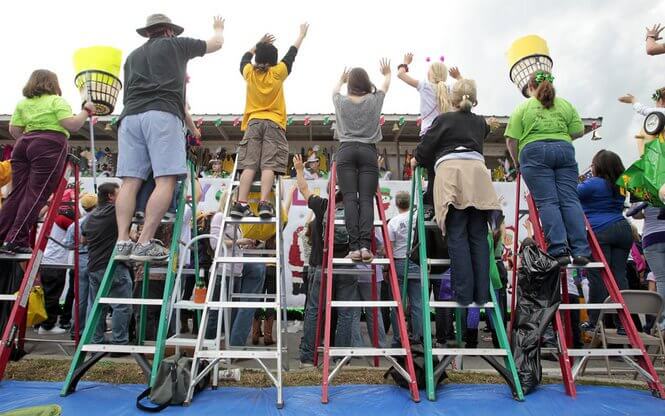 Signs of a Concussion
A concussion causes the head and brain to move back and forth quickly, resulting in a chemical change in the brain. Concussion signs can be physical, cognitive and emotional. However, a concussion will not show up on an X-ray like a broken nose, and it must be diagnosed with a careful exam.
Common immediate signs and symptoms of concussion include:
Headache
Dizziness
Nausea
Vomiting
Fatigue
Visual complaints
Confusion
Long-term symptoms include:
Sleep disturbances
Difficulty with memory and concentration
Chronic headaches
Psychological problems
How to manage a concussion?
Your provider may want someone to stay with you at home for a day or 2 to keep track of your condition. While your recovering, avoid sports and activities, such as running and bicycling. Also, limit activities that require you to concentrate heavily, which includes doing tasks at work that require intense focus. You may also need to take rest breaks during the day.
As your symptoms go away, you may be able to go back to your normal activities. The time it takes to recover from a concussion can vary from weeks to months. In rare cases, symptoms can last for years. If you have symptoms or problems that last more than 3 months, you may have a problem called post-concussion syndrome.
It has been shown that emergency room visits increase during Carnival season. Remember to practice these safety tips, and have a fun and safe Mardi Gras!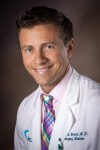 Dr. Matthew Bernard is a board-certified Emergency Medicine physician and Director of the Touro Infirmary Emergency Department. Dr. Bernard is a graduate of LSU Medical School in New Orleans, LA, and completed his Emergency Medicine Residents at Charity Hospital/University Hospital in New Orleans.