Touro Celebrates Falls Prevention Awareness Day with a "Stepping On" Program Reunion
In September 2010, Touro Infirmary hosted a program to educate seniors in New Orleans about fall prevention. The "Stepping On" Program empowered older adults to reduce their risk of falls and improve their quality of life. Each week, a team of experts led a workshop that covered a variety of topics designed to help seniors prevent falls. 12 LSU Master of Occupational Therapy students and Touro Occupational Therapists helped to the lead the program, attended by 12 seniors over the age of 65.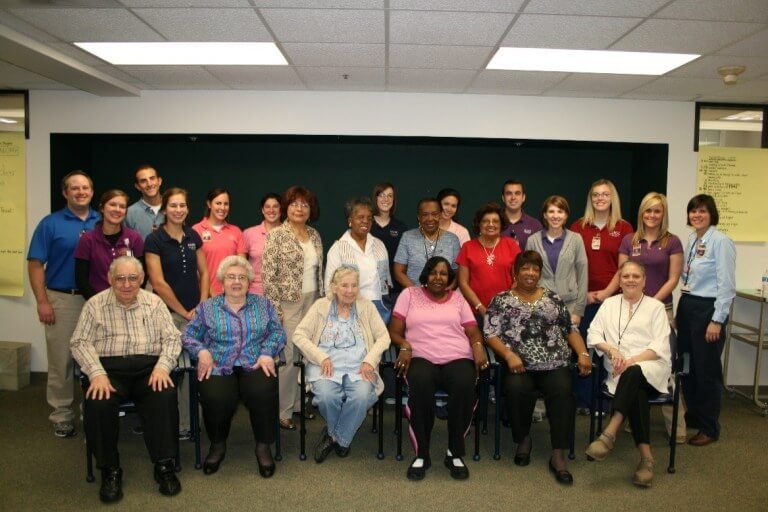 On the eve of the 8-year anniversary of the Stepping On Program, Touro held a reunion luncheon with some of the participants, Juanita Williams, Lucille Payne, Barbara Love and Myralin Vignaud, as well as the therapists to see how the falls education has helped them stay safe and independent. We were thrilled to hear how the information learned has impacted their lives.
"We are better educated from the program. I didn't need the information back then, but I do now. I am more aware of my falling hazards because of the program," said Juanita Williams. "I had a rug without any grips, and I had to get rid of it because it was a hazard."
Several of the ladies even brought their notes saved from the 2010 program. Lillian O'Cain, Touro Cancer Rehab Program Manager, Lynette Little, RN/PAI Coordinator, and Brad Greco, Neuro Rehabilitation Center Supervisor, were quite pleased to see their notes saved. "I made sure to keep everything," said Lucille Payne. The ladies shared information that they remembered from the program, which encompassed nearly everything. "We remembered the importance of exercising. We go to different senior groups and exercise together," said Barbara Love. Lucille Payne added, "I garden, rake, mop and sweep to stay active. I want to stay independent and, in my house as long as I can."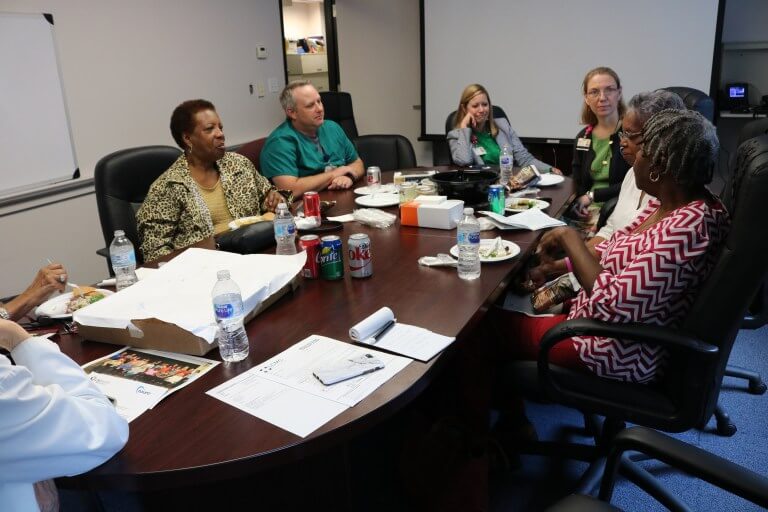 The ladies discussed the importance of having proper lighting throughout their homes, sturdy railings, appropriate ladders or step stools, removing extension cords and how to stand up properly from a chair or bed. "I make sure to grab the sides of my chair with both hands before standing up. I also remembered the proper way to fall, which helped me recently. I fell out of a chair, but I didn't hurt myself too bad because I remembered the lesson," said Myralin Vignaud. "I remembered to tuck my head in, so I wouldn't fall on it."
One of the main takeaways from the program was the friendships created between the ladies. "I took everyone's number from the program, and we all went to lunch," said Lucille Payne. "We hang out and do different activities together.
"It was a beautiful program because it brought us together," Juanita Williams added, "As we get older, we become lonely. We made great social connections. We have become a group of friends." Barbara Love also chimed in and said, "We motivate each other. We go to luncheons and senior festivals together. We don't want to get bored."
The luncheon proved that the Stepping On Program was a success. The therapists were happy to see their tips being put into practice and the friendship that were created through the program.