Expecting twins...and battling breast cancer
Author: Ashley O.
Date Submitted: Nov 2, 2021
Category: Survivor Stories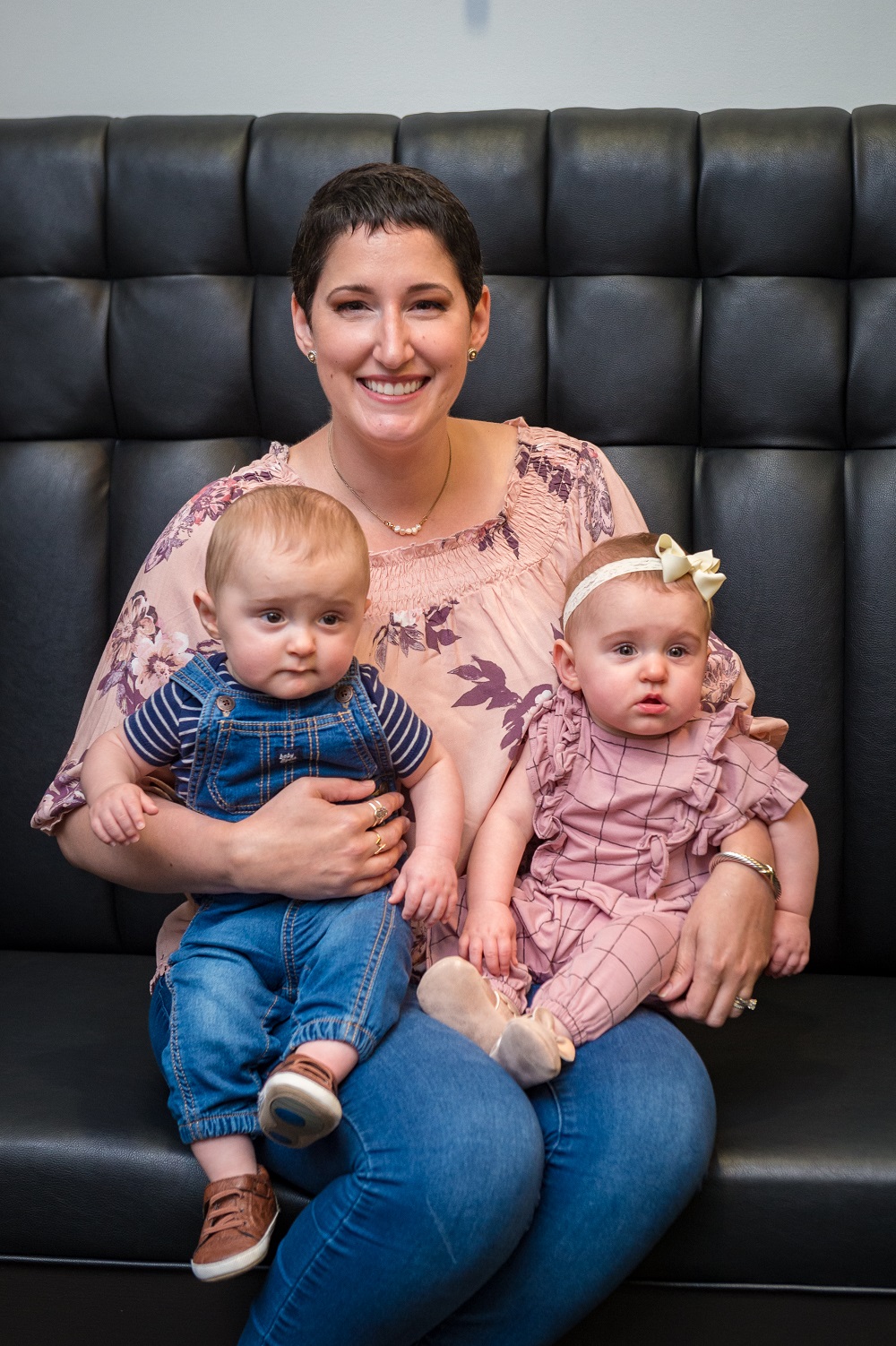 " We knew the twins were going to be premature because of my chemo schedule so we had to do what was the safest for me, and what was the safest for the babies."
For many women, getting the news of a pregnancy brings feelings of excitement and joy. Ashley O'Bryan was over-the-moon thrilled when she learned she was pregnant with twins after undergoing infertility treatments. Nothing could have prepared her for the news that would soon change her joy to worry: a diagnosis of triple-negative breast cancer at the age of 38.
Ashley's mother had a history of dense, fibrocystic breasts, so Ashley was always proactive with her health. Fibrocystic breast is a common condition that may affect as many as half of all women. Many women with fibrocystic breasts, like Ashley, experience breast pain, tenderness, or lumpiness. Equally as common, dense breasts don't cause troubling symptoms, but they may present
an increased risk of developing breast cancer.
A devastating diagnosis
At the age of 31, Ashley began getting regularly screened for breast cancer. Her breast screenings included ultrasounds to see beyond the breast tissues caused by her fibrocystic breasts. After an ultrasound in August of 2019, the results came back positive for triple-negative breast cancer.
"At the appointment I had six months prior, I had an actual cluster of cysts on my left breast that we were looking at," Explains Ashely. "When I went in for my appointment, the cluster of cysts in my left breast were no longer visible, but breast cancer had formed in my right breast. Six months prior to the diagnosis, there was nothing there.".
The news of this diagnosis was devastating for Ashley but her dedicated team of physicians at Touro comprised of OB/GYN, radiologists, oncologists, and surgeons, developed a comprehensive treatment plan to treat the cancer while protecting her babies.
Treating cancer during pregnancy
Ashely immediately met with Touro's Breast Surgical Oncologist Alfred John Colfry, MD and he pulled together a team of physicians to develop an individualized treatment plan for Ashley, as well as her unborn babies. Dr. Colfry referred Ashely to Dr. George Zacharia, a Hematologist/Oncologist at Touro. Dr. Zacharia discussed her oncological treatment options and recommended that Ashley begin chemotherapy immediately.
According to the American Cancer Society, chemotherapy is not given during the first trimester since that is when a lot of the baby's development occurs. Ashley was now 19 weeks pregnant and out of the first trimester, so she was able to begin her chemotherapy treatment right away. "The twins actually went through three rounds of chemo with me," Ashely recalls.
Ashley's treatment plan originally included four total rounds of chemotherapy, however, once it got closer to Ashely's due date Dr. Zacharia adjusted the plan to prepare for the delivery of the babies. "The fourth treatment had to be postponed since we did not want it given too closer to her delivery date, in order to avoid complications," Dr. Zacharia explains.
"We knew the twins were going to be premature because of my chemo schedule so we had to do what was the safest for me, and what was the safest for the babies," Ashley recalls. Ashely and her team of doctors planned to deliver the twins via cesarean section at 35 weeks when the babies were closer to full-term and Ashley could safely resume treatment after delivery.
Another change in plans
Unfortunately, due to a pregnancy-related complication, Ashley did not make it to the 35-week mark.
"I had to have an emergency c-section, and that was due to placenta previa" Ashley explains. "Due to the emergency circumstances, I was put under anesthesia for the delivery. I actually didn't get to see the twins until the next day." The twins were born healthy but spent a few weeks in the Family Birthing Center's NICU until their due date.
About two to three weeks after recovering from her c-section, Ashely began her final round of chemotherapy treatment. "With newborn twins and a three-year-old at home it was just crazy, I had to keep trucking along," said Ashley.
Ashley finished her chemotherapy during the peak of the COVID-19 pandemic and then had a double mastectomy with reconstructive surgery. She credits her positive perspective throughout her journey to the progressive results she began seeing during her treatment. "I think I was positive because by my second round of chemotherapy you could already feel my tumor starting to soften. You couldn't even feel it anymore."
Three thriving patients
Ashley's team of providers at Touro developed a treatment plan that was designed not only for Ashley but also for her twins Brynlee and Royce. Her care team recognized they had three patients to care for, which resulted in two healthy babies and a mom who is now cancer-free.

"All of my doctors have been so amazing this whole time—so encouraging. I wouldn't have made it without all the support I received from the doctors, nurses, and my family and friends."
Comprehensive cancer care
The Cancer Care Center at Touro provides comprehensive care and support during every step of your cancer journey. We're committed to providing you with the latest medical treatments, compassionate care, and support from diagnosis through treatment and into survivorship. Learn more about Touro's comprehensive cancer care at touro.com/cancer.