Race and Ethnicity
Studies show that rates of breast cancer differ depending on race and ethnicity in the United States. The incidence rate, or the rate of new cases, and mortality rates differ between ethnic groups.
African American Women
Breast cancer is the most common cancer in African American women and there were an estimated 30,700 cases in 2016. The average age of diagnosis is 59 years old compared to 63 years old in non-Hispanic white women. Although survival rates have improved, African American women have a 42% higher chance of mortality compared to white women and the highest overall mortality rate.
Ashkenazi Jewish Women
Breast and Ovarian cancer are more common among women of Central or Eastern Europe Jewish descent. This is linked to higher prevalence of BRCA 1 and BRCA 2 gene mutations in women from this region. In the general population, 2% carry these mutations compared to 8% of Ashkenazi Jewish women.
Asian-American, Native Hawaiian, and Pacific Islander Women
Rates of incidence and mortality tend to be lower in this group compared to both African American women and white women. However, since 2003 there has been a measured increase in incidence. Scientists suggest that the adoption of American lifestyles, such as obesity or having children later in life, may contribute to the increase in incidence seen in this group.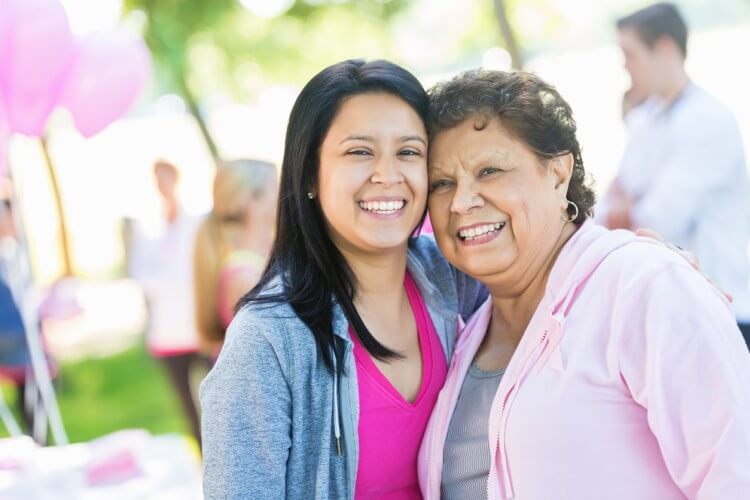 Hispanic and Latina Women
Breast cancer is the leading cause of cancer death for Hispanic and Latina women and there were approximately 19,800 cases of diagnosed in 2016. Additionally, breast cancer may be diagnosed in later stages due to a lower mammography rate among Hispanic women.
To learn more about the relationship between race and ethnicity and breast cancer, click here to explore the Susan G. Komen website.