Recipe for a Heart Healthy Diet
February is American Heart Month – a time to show yourself some love. By modifying your lifestyle, you can lower your risk for heart disease.
You do not need to start with big changes. Studies show that a meal plan rich in fruits and vegetables is a great start. Whole grains is associated with nearly 20% lower risk of cardiovascular disease versus those who practiced none of these healthy behaviors.
Spaghetti Squash Lasagna with Spinach
Ingredients
2 small spaghetti squash (about 1 1/2 pounds each)
2 teaspoons olive oil
4 garlic cloves, thinly sliced
1 (8-ounce) package fresh baby spinach
1/2 cup part-skim ricotta cheese
1/8 teaspoon kosher salt
2 ounces shredded part-skim mozzarella cheese (about 1/2 cup), divided
8 ounces 93% lean ground turkey
1 1/2 cups lower-sodium marinara sauce (such as Dell'Amore)
1 ounce Parmesan cheese, grated (about 1/4 cup)
Directions
Preheat oven to 350°.
Cut each squash in half lengthwise. Scoop out seeds; discard. Place squash halves, cut sides up, on a baking sheet. Bake at 350° for 50 minutes. Let stand 10 minutes. Scrape inside of squash with a fork to remove spaghetti-like strands. Place strands on a clean dish towel; squeeze until barely moist.
Heat a large skillet over medium-high heat. Add oil to pan; swirl to coat. Add garlic; cook 30 seconds. Add spinach; cook 1 minute or until spinach wilts. Remove from heat. Combine spinach mixture, squash strands, ricotta cheese, salt, and half of mozzarella cheese in a medium bowl.
Return skillet to medium-high heat. Add turkey to pan; cook 4 minutes or until browned, stirring to crumble. Add marinara sauce; cover, reduce heat to medium, and simmer 4 minutes. Remove from heat.
Increase oven temperature to 425°.
Spoon sauce evenly into the bottom of each squash half. Top evenly with squash mixture. Sprinkle evenly with remaining mozzarella cheese and Parmesan cheese. Bake at 425° for 20 minutes.
Preheat broiler to high (keep squash in oven). Broil squash 1 to 2 minutes or until cheese is golden brown and bubbly. Remove from oven; let stand 10 minutes.
Cooking Light
Click here for more heart healthy recipes.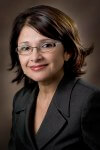 Liz Cabrera, RD, CSO, LDN, CNSC, is the Lead Clinical Dietician for Touro Infirmary with over 25 years experience. Liz has advanced education and extensive experience in nutrition for a broad range of health conditions for which she provides nutrition support. Liz provides comprehensive nutrition care for inpatient and outpatient departments at Touro. In addition, Liz leads monthly healthy lifestyles community seminars and a nutrition after cancer cooking class.