LCMC Health hospitals chosen to participate in Health and Human Services new Maternal and Infant Care Collaborative
Touro and West Jefferson Medical Center chosen to drive quality improvements for mothers and babies in hospitals across the country.
NEW ORLEANS – Touro and West Jefferson Medical Center, both part of LCMC Health, have been chosen to be a part of the U.S. Department of Health and Human Services (HHS) Office on Women's Health's Perinatal Improvement Collaborative. This new collaborative is focused on improving maternal and infant health outcomes by reducing disparities.
HHS chose 200 hospitals to be part of this collaborative, the first of its kind to evaluate how pregnancy affects overall population health by linking inpatient data of newborns to their mothers.
VIRTUAL TOUR: Touro's Family Birthing Center
VIRTUAL TOUR: West Jefferson Medical Center Family Birth Place
The collaborative's two-pronged approach includes capturing and integrating patient and clinical care data – from both mother and infant – to understand drivers of preventable harm and death and improve measurement and comparison across geographies and populations. Using these resources, the collaborative will implement and analyze evidence-based interventions to drive clinical quality improvement and advance health equity.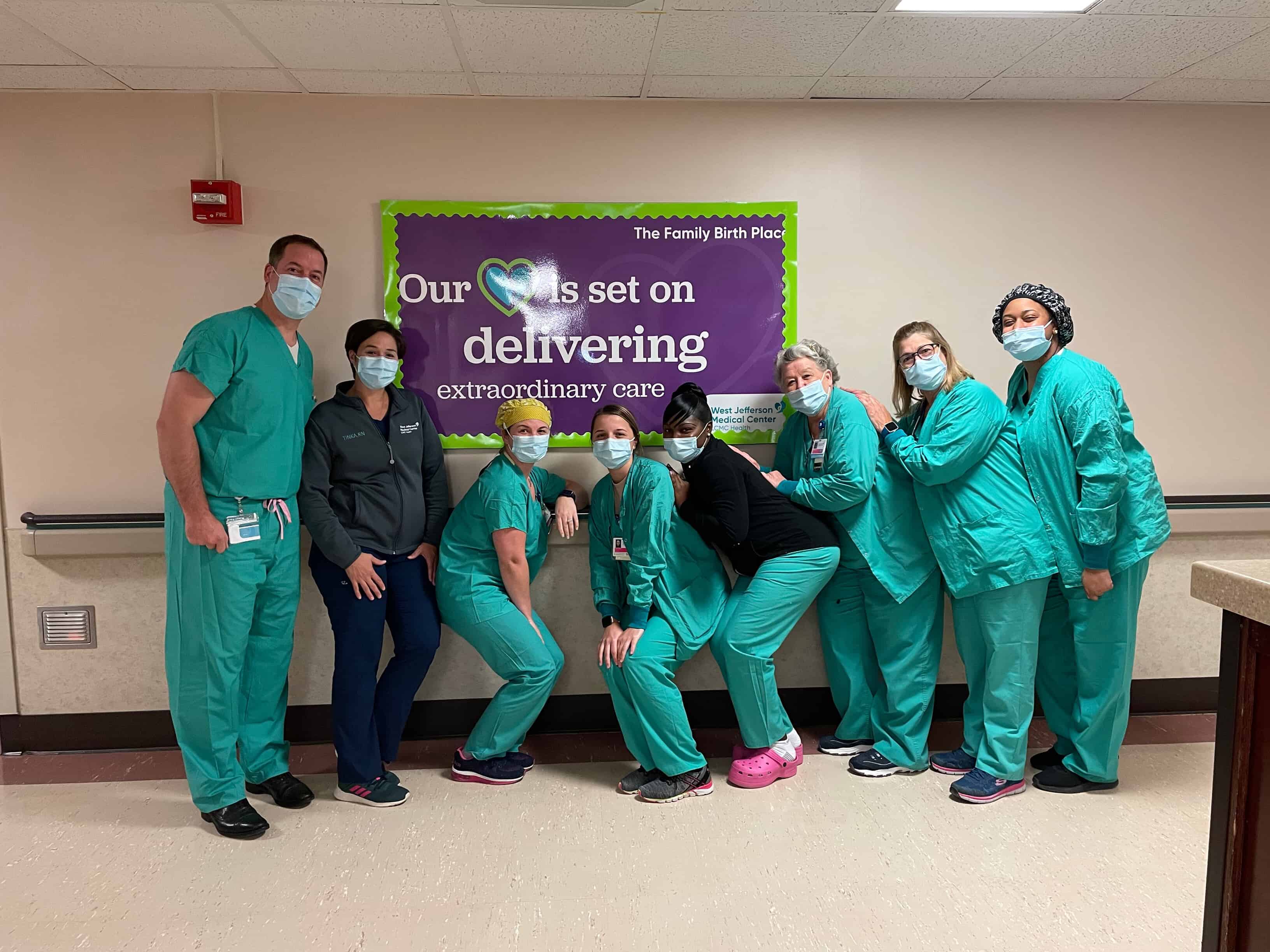 "With our participation in this collaborative, West Jefferson can help make certain that all women and their babies have access to the best doctors and receive care that is safe, timely, and equitable," said Rob Calhoun, President and Chief Executive Officer of West Jefferson Medical Center. "This collaborative can improve the health of our Westbank community and help make advancements on a national level to ensure that mothers and babies across the country have the best possible outcomes."
RELATED: Learn more about Women's Health services at West Jefferson Medical Center, including Labor & Delivery, obstetrics and gynecology, and childbirth education
Both Touro and West Jefferson will capture more than 150 measures to understand clinical and non-clinical factors that impact overall maternal and infant health outcomes with an overarching focus on health disparities. Specific areas of focus include hypertension and other disorders, infection, and COVID-19.
"Touro is committed to working with national and local health organizations to address maternal morbidity and mortality rates, reduce healthcare disparities, and improve access to care for both mothers and babies," said Patricia Rosenberg, RN,MSN, Chief Nursing Officer at Touro. "It is through research initiatives such as this one, that we are able to impact change and improve maternal care and give babies the strongest start to life."
RELATED: Learn more about Women's Health services at Touro, including Maternal Fetal Medicine, Level III NICU, gynecology and obstetrics
To advance health equity, the collaborative will develop strategies to reduce persistent racial, ethnic, and geographic disparities and examine how care may be tailored to mothers with diverse needs. The end goal: Reduce risks for mothers and babies most susceptible to poor health outcomes.
For more information on these efforts, visit two sections of the HHS Office on Women's Health site here and here.
---
ABOUT TOURO | Touro has been serving the New Orleans community for over 165 years, and today we are the city's only community-based, non-profit, faith-based hospital offering comprehensive healthcare services at every stage of life, from delivering generations of New Orleans babies to providing comprehensive cardiac, cancer and rehabilitation care. Touro is a proud member of LCMC Health, a Louisiana-based, not-for-profit hospital system which also includes Children's Hospital, New Orleans East Hospital, University Medical Center New Orleans, West Jefferson Medical Center, and East Jefferson General Hospital.
ABOUT WEST JEFFERSON MEDICAL CENTER | Founded in 1956, West Jefferson Medical Center is a 419-bed community hospital located in Marrero, La. As a full-service medical center, West Jefferson offers comprehensive programs for preventive, emergency, acute and rehabilitative care with a medical staff of more than 450 physicians and a complement of 1,700 employees and many volunteers. The medical center enjoys national awards for clinical excellence across many of its subspecialties.
West Jefferson Medical Center is a proud member of LCMC Health, a Louisiana-based, not-for-profit hospital system serving the healthcare needs of the Gulf Coast region. LCMC Health currently manages award-winning community hospitals including Children's Hospital, Touro, New Orleans East Hospital, University Medical Center New Orleans, East Jefferson General Hospital, and West Jefferson Medical Center