Explore the Family Birthing Center
Tour the Family Birthing Center at Touro
Whether you live Uptown, on the Westbank, in Metairie or any place in between, Touro is here to provide you with exceptional, highly personalized care in a comforting environment during one of the most exciting times for your family.
Touro offers comprehensive care for mom and baby in a beautiful and peaceful setting. The Family Birthing Center at Touro features 14 private delivery suites, 37 private post-partum recovery rooms, 24-hour OB/GYN hospitalist and anesthesia coverage, and daily breastfeeding assistance for nursing mothers from our Certified Lactation Consultants. For our tiniest and most fragile babies, we have a Level III NICU equipped with more than 20 private and semi-private rooms, access to perinatal services, and two transition-to-discharge rooms for parents ready to take their little one home. The Family Birthing Center is staff by specialty trained OB/GYNs, midwives, nurses, and patient care technicians working together to provide extraordinary care for mom and baby.
Virtual tour
Take a personal tour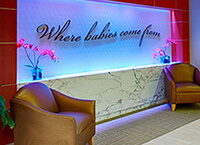 Because this is a big decision, we want to make it possible for you to get an up close and personal look at the Family Birthing Center. Tours of the birthing center are free, just meet us in the waiting room of the Family Birthing Center located on the 2nd floor of the main hospital. Follow the signs that say M2 Maternity. We offer both group and individual tours and will validate your parking in one of our two attached parking garages while you visit. Individual tours may be scheduled during the week by calling 504-897-7319. Due to COVID-19 restrictions, we have cancelled all group and individual tours of the Family Birthing Center until further notice.
For more information or to schedule a tour, give us a call at 504-897-7319.
Visiting Hours: 24 hours except for 6:45 - 7:45 am & pm
A photo I.D. is required for all Family Birthing Center visitors.