Paula's Cancer Journey
Author: Paula H.
Date Submitted: Nov 2, 2021
Category: Survivor Stories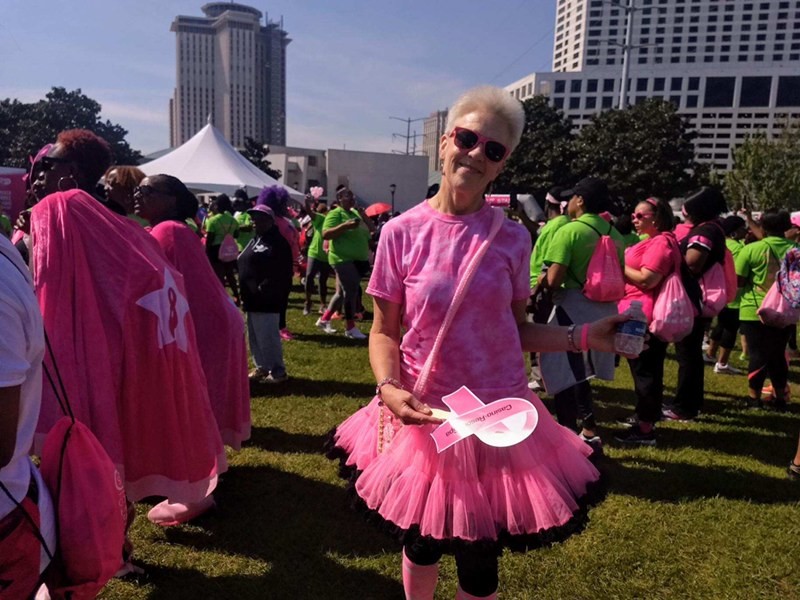 " It's amazing how much laughter can happen in an oncology department, but we've got such a great team at Touro."
I was diagnosed on July 3, 2003, at the age of 44. I had been getting yearly mammograms and just prior to my diagnosis had a mammogram that looked normal. A couple of months after my mammogram I felt a lump and I went back to the doctor. Since I have dense breast tissue, it had not showed up on the previous mammogram. An ultrasound showed that I had a tumor in my left breast, and I knew right away that it was something.
I went and had a biopsy and was diagnosed with stage 1 invasive breast cancer. I had a mastectomy, then reconstruction which was followed by chemotherapy. At the time I finished my second stage of reconstruction, Hurricane Katrina happened. My husband lost his job and the hospital I was working at was underwater, so we went to South Carolina. We briefly relocated so that we could keep working and keep our insurance.
After 6 months in South Carolina we moved back to New Orleans to find new jobs. I felt like I wanted to do something totally different than nursing - I decided that was oncology. It took a while, but I finally got a position at Touro, which was kind of a miracle in itself. It was one of those things that was meant to be and I have totally fallen in love working here at Touro. I love actually being able to give back and I feel like what happened to me happened for a reason, and that I needed to use that to help others.
I found that I struggled the most after my cancer treatment was completed. During treatment you're busy, you have all of your treatments laid out, you have all of your friends lined up, and just busy all the time. When I was finished with treatment, I went back to work and my hair grew back, and everyone was like "thank god it's over." But it's not, it's not just over. It's different now. It's just kind of a renewal of love for life.
I was very eager to see what I could do to develop the survivorship program. It's been about 4-5 years now and we're going strong. We've got a great support group; I love my ladies. We go through the good times and the bad times together.
It's amazing how much laughter can happen in an oncology department, but we've got such a great team at Touro. In 40 years of nursing, I've never worked with a group of people that are all so passionate about what they're doing. They love what they're doing and the years of experience of doing it are in the hundreds. It's a great way to kind of close out my nursing career and spend my last nursing years here. It keeps me still going. I feel very blessed and happy that all of this has come about as it has.
I'm more than a survivor. I am a world traveler, dog lover, yogi, wife of 35 years, nurse of 40 years, and a book lover. I'm a lot of things – I'm finding new things all the time.